For any payment – anywhere in the world
Do more with less in your pocket.
One card, so many ways to pay – make purchases and pay bills in person, online, over the phone or in-app
Check out faster – add the card to your digital wallet, Visa® Checkout*, PayPalTM* or online retailers and services
It's the perfect travel companion – accepted worldwide – with no foreign transaction fees
Free access to your money – Visit thousands of TD ATMs across the U.S. and Canada and access your checking and savings accounts for free
Need a debit card today? Visit a TD Bank and get an instant issue debit card for your new or current checking account.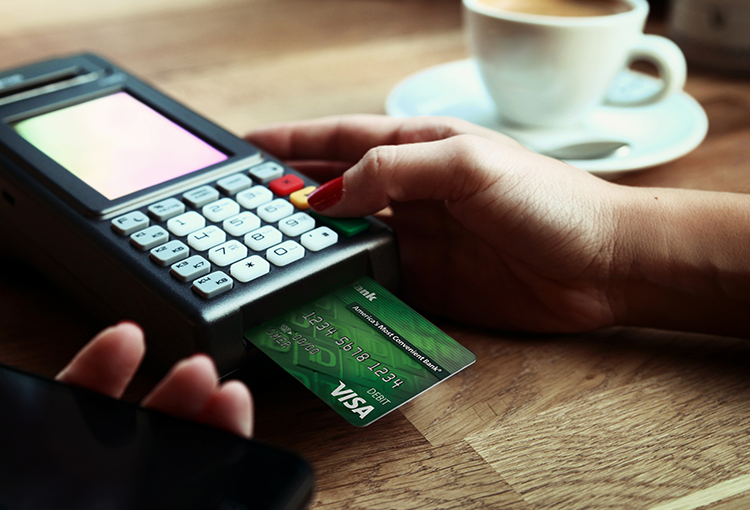 Pay with confidence
Equipped with chip technology, an added layer of security
Count on us for 24/7 fraud monitoring
Includes Visa Zero Liability1 protection for lost/stolen cards
Services available with your card
Already have a TD Bank Debit Card?
Find out how to make the most of your card.
Learn more about the security of chip technology.

Get the details on how we calculate your available balance.

Learn how our overdraft options can help you to avoid unwanted fees.
Using your card to travel?
Call us at
1-888-751-9000
1-888-751-9000
a week before any travel so that we know you'll be using the card out of state or overseas.
Ways to get a debit card
In person
Come in and get a new instant issue debit card for your new or current checking account
By phone
Call Customer Service 24/7, and we'll mail you a new card
Online
Send us a secure message from within Online Banking, and we'll mail you a new card
back to top