Skip to content
Financial Planning
Investment Choices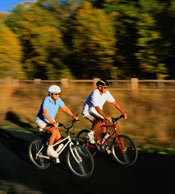 Asset allocation can be responsible for as much as 90% of your portfolio's success. We'll help you choose an investment mix that suits your needs.

Your TD Waterhouse Financial Planner will introduce you to financial products, services and strategies designed to enhance your economic success.
TD Waterhouse Financial Planners are fully trained and licensed to offer you a variety of investment choices, including:
Mutual funds, from a broad selection of many of Canada's leading fund companies, including TD Mutual Funds
Managed solutions, such as the TD Managed Assets Program and TD Strategic Managed Portfolios*.
Fixed-income investments, including Guaranteed Investment Certificates, money market instruments and more.
You will also have access to TD Waterhouse Electronic Brokerage Services including WebBroker, TalkBroker, TeleMax and TD Waterhouse eServices.
Speak with a TD Waterhouse Financial Planner today to find out how easy it can be to choose the right investments for your financial plan. TD Waterhouse Financial Planners are located in select TD Waterhouse Investor Centres and many TD Canada Trust branches across the country.
Locate a TD Waterhouse Financial Planner in your area, or call 1-866-280-2022.
Financial Planning
New Weekly Webcast!