Publications
Publications
2014 Corporate Responsibility Report
See how our Corporate Responsibility programs and initiatives have developed over the years by exploring the TD archives.
Best viewed with Adobe Reader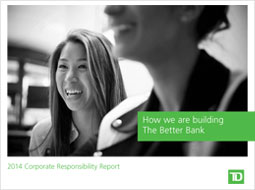 Browse through TD's archived Corporate Responsibility Reports in English and in French.
Read about TD's sustainability initiatives in the news.
Explore TD's insights and analysis on sustainability issues.
Find out more information about TD's policies, commitments and other reference material related to corporate responsibility at TD.