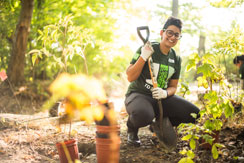 Protecting and enhancing the environment is our commitment at TD. In addition to continually reducing the environmental impacts of our own business, we also support green projects in the community – through corporate giving, employee volunteering and our flagship program, the TD Friends of the Environment Foundation.
Our objectives in this area are to:
Promote environmental education and community engagement
Green our urban environment and enhance biodiversity
Promote energy conservation
Key Programs We Support
TD Friends of the Environment Foundation
Founded by TD Bank Group in 1990, TD Friends of the Environment Foundation (TD FEF) is a national charity that funds environmental projects across Canada.
With the support of more than 150,000 donors, TD FEF has provided approximately $70 million to over 23,000 environmental projects and programs.

TD Tree Days
TD Tree Days, TD's flagship volunteer program, provides TD Employees and their families, our customers and community partners the opportunity to demonstrate leadership in environmental stewardship in their local communities. Since the program launched in 2010, over 185,000 trees have been planted in communities across Canada, the US, the UK, and Luxembourg.

TD Green Streets
As title sponsor of TD Green Streets in Canada, TD supports innovation in municipal forestry. Through this unique program, dozens of municipalities, Aboriginal communities and Business Improvement Associations can apply for matching grants of up to $15,000 each year to support local urban forestry projects.
In the US, TD Green Streets supports innovative urban forestry projects in low-moderate-income neighbourhoods with grants of up to $20,000 each.

Eco-Kids
Eco-Kids teaches children in U.K. primary schools about the benefits of caring for the environment and sustainable living. TD employees volunteer at participating schools to deliver information on water conservation and composting.