Investment advice and financial planning
Investment advice and financial planning
Your advisor can review the full range of solutions and determine what's appropriate for you, based on your specific needs.
These can include:
Mutual funds, from a broad selection of many fund companies in Canada, including TD Mutual Funds. Mutual funds are managed by professionals who decide the best mix of investments across a number of different asset classes.
Managed solutions, such as the TD Managed Assets Program, TD Portfolios Solutions and TD Strategic Managed Portfolios. These solutions are professionally managed by TD Asset Management Inc. and rebalanced to take advantage of evolving market conditions.
Fixed-income investments, including Guaranteed Investment Certificates, money market instruments and more.
Securities listed on Canadian, U.S. and international stock exchanges.
---
Everyone's vision of retirement is different. Some choose to pursue hobbies, volunteer, travel or even continue working; others prefer a quieter lifestyle centred on home and family.
In addition, everyone's starting point is different. Some people build up savings while they are very young, while others address other priorities and may start saving for retirement later in life. No matter what your situation, your advisor can help you take the steps needed to reach your retirement goals.
Your advisor will take the time to understand you, your current financial status and your retirement vision, asking you targeted questions that will help you clarify your goals and determine your priorities. Your advisor will then use this information to create a detailed plan for saving and investing that can help you set realistic goals in your desired timeframe.
Your advisor can help you:
Establish a savings strategy. Savings are important, whether you're retired, getting ready to leave the workforce or just getting started on a long-term plan. A comprehensive plan can help you manage your savings effectively at every stage of your personal and professional life.
Accumulate the capital you need. Depending on the amount you have saved, your savings strategy, your age and your desired lifestyle in retirement, we can find an appropriate investment approach to match your goals.
Have a steady income. A reliable source of income makes it easier to manage a personal budget, plan for events and meet your day-to-day expenses with greater confidence and peace of mind.
Get the cash you need when you need it. For the things you can't predict, a well-structured plan may provide flexible access to cash on an as-needed basis.
Mitigate the impact of inflation. Your investing strategy will take inflation into consideration and may include investments to help protect against its effects.
Take advantage of tax-saving strategies. A comprehensive plan can include an effective tax strategy that may help to minimize or defer taxes.
Leave a legacy. Depending on your personal situation, your plan might include strategies that enable you to leave a financial legacy for loved ones or charity.
---
With tuition alone running into thousands of dollars, post-secondary education is a major investment, but one that can pay off significantly for your child, grandchild or other loved one.
There are a number of effective ways to save for education costs, including Registered Education Savings Plans (RESPs) and Tax-Free Savings Accounts (TFSAs). Based on your objectives and timeframe, your advisor can help you choose the option or options that meet your needs and create a savings and investment strategy that will help you reach your education funding goals.
Starting early and saving regularly will help to maximize the benefits of long-term growth, helping you to reach your goal sooner. The more you manage to save, the more choices your children and loved ones will have and the less likely they are to graduate with a heavy debt load.
By working with an advisor to develop an education plan, you may realize:
Cost savings. Starting early and taking advantage of government incentive plans may help you supplement your savings and reach your goals sooner.
Greater choice. Starting your plan early may lead to greater savings, which can help you or your loved ones to enroll in longer school programs or higher-cost training courses.
Reduced debt. Paying for most or all education expenses in advance or throughout the study period can reduce the need for you or your loved ones to take on loans or other forms of credit that can become a burden after graduation.
Additional sources of revenue. A plan can help reveal options that provide additional money at little or no cost, such as the Canada Education Savings Grant.
---
Whether you are saving to purchase a new car or a vacation property, your advisor can help you determine how much you need to save on a regular basis to reach your savings target by your desired purchase date.
For some purchases, of course, it may be necessary to borrow. In that case, your advisor can help you make the credit choices that are best for your situation.
Your advisor can help with:
Cost savings. Identifying the most effective way to pay for major purchases may result in significant savings.
Tax minimization. Using financial assets to pay for major purchases may trigger a tax liability. Planning ahead helps you determine the payment option with the lowest overall cost.
Cash flow. Matching your financing options to the expected life of your major purchases gives you the option of amortizing the cost over the life of the asset. This allows you to use your cash flow to fund other financial goals.
Protection. Incorporating ways to protect your assets as part of your major purchase plan may help to protect your family from debt and enable you to retain the asset if something unexpected should happen to you.
---
Effective tax planning may result in ongoing savings opportunities for you and your family.

The effect of taxation needs to be taken into consideration with regard to both one-time transactions and annual planning. Effective tax planning on both fronts can bring the following benefits:
Savings. Financial decisions should not be solely tax-driven; however, considering the tax implications among potential alternatives may result in tax savings that you can use in other areas of your plan.
Higher potential for long-term gain. When you pay less tax you may realize more net income or higher proceeds from transactions. This leaves more money in your plan that can be put to work.
New opportunities. Effective tax planning includes identifying tax deductions and credits that might otherwise be overlooked. By taking advantage of these government-approved amounts, you may generate additional savings.
---
You've worked hard to accumulate savings and build your investments over time. Your advisor, working with TD estate and trust specialists, can help you put in place an estate plan to manage and administer your property in accordance with your wishes.
Your will is a cornerstone of your estate plan. It establishes who will manage your estate and provides for the distribution of your property to named beneficiaries on your passing, providing clarity and direction to your surviving family members as to how you want your estate to be administered. If you pass away without a will (intestate), your assets will be distributed according to the intestacy laws of your province.
Our specialists are knowledgeable about not just wills but many different aspects of estate planning, such as trusts and powers of attorney for property. Working with your advisor, our estate and trust specialists can assist in the creation of an estate plan tailored to your needs, resulting in the following potential benefits:
Control. If you pass away without a will, the courts will appoint an administrator to distribute your assets according to a prescribed legal formula. With an estate plan, including a will, you can guide the distribution of your assets.
Reduced stress. Planning ahead allows you to anticipate potential expenses such as costs and taxes that may be incurred and take appropriate steps to deal with them up-front. This may help reduce pressure on your family at a very stressful time.
Legacy. Estate planning may include the creation of trusts, scholarships and endowments that can provide ongoing support to individuals, charities and causes.
Immediate opportunities. As part of the estate planning process, you may uncover tax-efficient strategies that allow you to transfer some of your property to your family members now. This provides you with the opportunity to watch them enjoy and benefit from your generosity.
You can rely on TD Wealth to provide you with open, straightforward advice to help you realize your goals whether you are just starting to save and invest or have accumulated significant wealth that would benefit from professional management.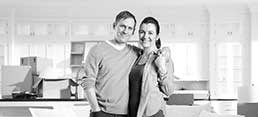 Investable assets, excluding family home: $150,000
Financial goal: Saving while paying off their debts
Call 1-800-577-9594 or find an advisor in your area.