Being The Better Bank is about more than financial results. We care just as much about being a supportive place for our employees, a comfortable place for our customers and an open environment for our suppliers.
We believe that TD's commitment to diversity is not only the right thing, it's critical to achieving our mission to be a leading North American bank. Our success depends on reflecting the communities where we do business and where our employees, customers and suppliers live, work and play.
We are determined to be a place where employees, customers, and suppliers alike feel comfortable and supported in all their diversity.
Our vision is clear: to be The Better Bank. So, too, is our mission: to be the best-run, customer-focused, integrated financial institution, with a unique and inclusive employee culture. We invite you to experience TD soon.
Learn more about TD's Diversity Leadership Council in North America›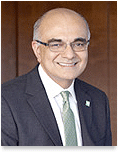 Bharat Masrani
Group President and Chief Executive Officer
TD Bank Group