We focus our efforts in six areas of diversity and inclusion:
Expanding leadership opportunities for women;
Expanding leadership opportunities for members of (visible) minority groups;
Creating and promoting an inclusive culture for people with disabilities;
Enhancing and promoting an inclusive environment for lesbian, gay, bisexual, transgender and allied employees, customers and clients;
Creating and promoting an inclusive culture for Aboriginal employees and customers (Canada); and
Serving diverse communities (Canada and U.S. only).
Governance Structure
Group President and CEO Bharat Masrani and the Senior Executive Team play direct roles in driving TD's diversity agenda.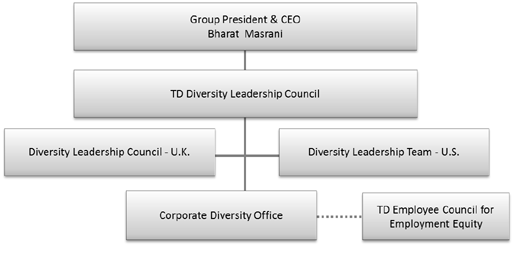 TD Diversity Leadership Council (DLC):
This formal council reports directly to the Group President and CEO.
Members include senior executives representing our major businesses and corporate areas.
Their mandate is to champion diversity initiatives across the organization and help groups embed diversity into their business plans.
Leadership
Diversity Leadership Council
Riaz Ahmed (Chair) Group head Insurance Credit Card and Enterprise Strategy
Diversity Leadership Council (U.K.)
Paul Whitehead (Sponsor) CEO, TD Wealth International
Helen Davies (Chair) HR Director, TD Wealth International
Diversity Leadership Team (U.S.)
Linda Verba, EVP, Head of Service Programs TD Bank, America's Most Convenient Bank
Within each team/council, a senior executive is assigned an area of focus to champion.
Corporate Diversity Office
Led by the Vice President, Learning and Development, Diversity and Employee Experience Analytics.
Team of 9 employees.
Their mandate is to oversee the diversity strategy, ensure corporate initiatives contribute to TD's diversity goals and objectives and communicate updates to the broader teams.
TD Employee Council For Employment Equity
The council includes employees from diverse backgrounds, locations and businesses.
They meet four times annually.
Their mandate is to advise on the development, revision and implementation of TD's Employment Equity Plan. They also review progress on achieving the plan's objectives and provide feedback on diversity initiatives.
Diversity Policy and Management Systems
A comprehensive policy framework supports our diversity programs:
the fundamental values of diversity and inclusion are ingrained and promoted through our Strategic Framework, Leadership Profile and Guiding Principles;
Employee Relations policies;
Diversity and Employment Equity Policy;
TD's Harassment, Discrimination and Violence in the Workplace Policy; and
Our Workplace Accommodation Policy outlines TD's commitment to support employee diversity, such as time for observance of religious practices, flexible work options and accommodation of disabilities in the workplace.