TD stood tall for all the right reasons in 2014.
It was a year of great performance set against a challenging economic backdrop. We overcame continued pressures on our operating environment and delivered adjusted earnings of $8.1 billion with record results in many of our businesses. Our retail businesses grew and took share on both sides of the border. We delivered excellent value to shareholders with a total return of more than 20%, exceeding the Canadian peer average.
We achieved all this by facing our challenges head-on, seizing opportunities and competing to win, all while staying true to the principles that define us, including:
Providing our customers with the legendary service they deserve.
Investing in our people so they can reach their full potential.
Delivering long-term value to our shareholders.
Making tangible contributions to the communities where we live and work.
HOW OUR BUSINESSES PERFORMED
Our Canadian retail bank delivered record adjusted earnings of $5.5 billion for the year. We welcomed approximately 540,000 new Aeroplan customers to TD, and were again recognized as an industry leader in customer service. Our Insurance business built on its fundamentals, and our Wealth business made innovative enhancements to our leading direct investing platform and deepened client relationships in our advice and asset management businesses.
Our U.S. retail bank outgrew the industry in what continues to be a challenging operating environment for banks. We delivered US$1.9 billion in adjusted earnings in 2014, including TD Ameritrade's contribution. Our performance reflects our strong fundamentals and our differentiated customer-focused business model.
Our Wholesale business had a very strong year and contributed $813 million. TD Securities saw broad-based performance across all businesses with a continued focus on originations and client focused strategies, and led notable deals including the Nalcor Energy Muskrat Falls Project and PrairieSky, the largest Canadian IPO in 14 years.
We also took bold steps in executing on our mobile strategy so we can be where our customers need us, when they need us. We launched remote mobile deposit capture on both sides of the border, and our Canadian banking app was ranked first by subscribers accessing financial services on their mobile devices.
BUILDING THE BETTER BANK TODAY AND TOMORROW
In 2014, we continued to demonstrate that the fundamentals of our business model give TD a competitive advantage to:
Find ways to run our businesses efficiently, while investing in the future.
Grow our businesses in line with our risk appetite, and focus on organic growth.
Foster a culture where 85,000 colleagues, the heart and soul of TD, are inspired to be their best every day.
This approach once again reinforced our position as leaders in the industry and we received significant recognition on both sides of the border for providing the best customer service and for being a great workplace.
HERE FOR OUR CUSTOMERS
The theme of our report this year is Here for you. At TD, we start with the customer in everything we do. Helping our customers plan for the future, purchase a home, start a business, or save for their child's education – these are moments that matter in the lives of our customers and matter to us.
Being here for our customers and clients, at every stage, is what sets TD apart: one customer at a time, one relationship at a time.
THE VIEW AHEAD
It is a privilege to take the reins from Ed Clark and to lead more than 85,000 extraordinary TD colleagues as we continue to build relationships with our customers and deliver value to our shareholders.
Looking forward, even as the environment continues to change around us, we will adapt, but we will never lose sight of what makes us The Better Bank. I truly believe we have the right business model – one that is diversified and built to perform – the right people, and a powerful brand. I believe our best days are ahead of us and I look forward to sharing them with all of you.
Thank you for your support.
Bharat Masrani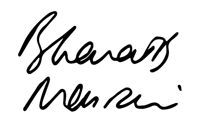 Group President and Chief Executive Officer