The Board of Directors and its committees
The Board of Directors as at October 31, 2014, its committees and key committees' responsibilities are listed below. Our Proxy Circular for the 2015 Annual Meeting will set out the director candidates proposed for election at the meeting and additional information about each candidate, including education, other public Board memberships held in the past five years, areas of expertise/experience, TD Committee membership, stock ownership and attendance at Board and Committee meetings.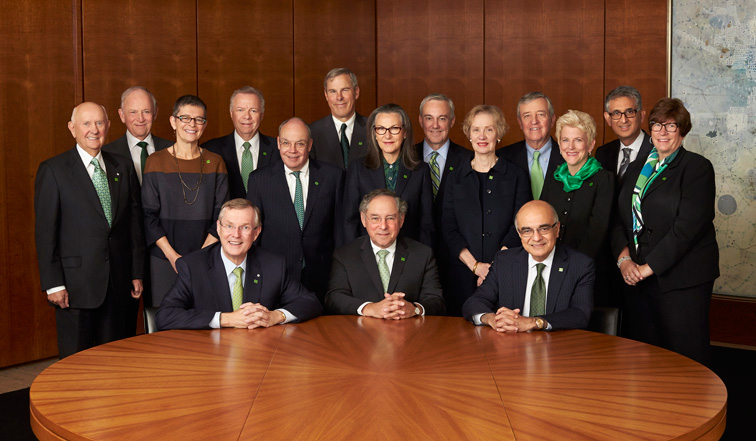 Back row: Harold H. MacKay, David E. Kepler, Henry H. Ketcham, Alan N. MacGibbon, Wilbur J. Prezzano, Nadir H. Mohamed
Middle row: John L. Bragg, Helen K. Sinclair, William E. Bennett, Irene R. Miller, Colleen A. Goggins, Amy W. Brinkley, Karen E. Maidment
Seated: W. Edmund Clark, Brian M. Levitt, Bharat B. Masrani
Back row
Harold H. MacKay
Counsel, MacPherson Leslie & Tyerman LLP, Regina, Saskatchewan
David E. Kepler
Executive Vice President, The Dow Chemical Company, Midland, Michigan
Henry H. Ketcham
Executive Chairman, West Fraser Timber Co. Ltd., Vancouver, British Columbia
Alan N. MacGibbon
Vice Chair, Osler, Hoskin & Harcourt LLP Toronto, Ontario
Wilbur J. Prezzano
Corporate Director and Retired Vice Chairman, Eastman Kodak Company, Charleston, South Carolina
Nadir H. Mohamed
Former President and Chief Executive Officer, Rogers Communications Inc., Toronto, Ontario
Middle row
John L. Bragg
Chairman, President and Co-Chief Executive Officer, Oxford Frozen Foods Limited, Oxford, Nova Scotia
Helen K. Sinclair
Chief Executive Officer, BankWorks Trading Inc., Toronto, Ontario
William E. Bennett
Corporate Director and former President and Chief Executive Officer, Draper & Kramer, Inc., Chicago, Illinois
Irene R. Miller
Chief Executive Officer, Akim, Inc., New York, New York
Colleen A. Goggins
Corporate Director and former Worldwide Chairman, Consumer Group, Johnson & Johnson, Princeton, New Jersey
Amy W. Brinkley
Consultant, AWB Consulting, LLC Charlotte, North Carolina
Karen E. Maidment
Corporate Director and former Chief Financial and Administrative Officer, BMO Financial Group, Cambridge, Ontario
Seated
W. Edmund Clark
Group President and Chief Executive Officer TD Bank Group
Brian M. Levitt
Chairman of the Board, The Toronto-Dominion Bank and Vice Chair, Osler, Hoskin & Harcourt LLP, Montreal, Quebec
Bharat Masrani
Chief Operating Officer TD Bank Group
Committee
Members1
Key Responsibilities1
Corporate Governance Committee
Brian M. Levitt
(Chair)
William E. Bennett
Harold H. MacKay
Karen E. Maidment
Wilbur J. Prezzano

Responsibility for corporate governance of TD:

Set the criteria for selecting new directors and the Board's approach to director independence;
Identify individuals qualified to become Board members and recommend to the Board the director nominees for the next annual meeting of shareholders;
Develop and, where appropriate, recommend to the Board a set of corporate governance principles, including a code of conduct and ethics, aimed at fostering a healthy governance culture at TD;
Review and recommend the compensation of the non-management directors of TD;
Satisfy itself that TD communicates effectively with its shareholders, other interested parties and the public through a responsive communication policy;
Facilitate the evaluation of the Board and Committees; and
Oversee an orientation program for new directors and continuing education for directors.

Human Resources Committee
Wilbur J. Prezzano
(Chair)
Amy W. Brinkley
Mary Jo Haddad3
Henry H. Ketcham
Brian M. Levitt
Nadir H. Mohamed
Helen K. Sinclair

Responsibility for management's performance evaluation, compensation and succession planning:

Discharge, and assist the Board in discharging, the responsibility of the Board relating to leadership, human resource planning and compensation as set out in this Committee's charter;
Set performance objectives for the CEO which encourage TD's long-term financial success and regularly measure the CEO's performance against these objectives;
Recommend compensation for the CEO to the Board for approval, and determine compensation for certain senior officers in consultation with independent advisors;
Oversee a robust talent planning process that provides succession planning for the CEO role and other senior roles. Review candidates for CEO and recommend the best candidate to the Board as part of the succession planning process for the position of CEO and periodically review TD's organization structure for alignment with business objectives and succession planning requirements;
Oversee the selection, evaluation, development and compensation of other members of senior management; and
Produce a report on compensation for the benefit of shareholders, which is published in TD's annual proxy circular, and review, as appropriate, any other related major public disclosures concerning compensation.

Risk Committee
Karen E. Maidment
(Chair)
William E. Bennett
Amy W. Brinkley
Colleen A. Goggins
David E. Kepler
Harold H. MacKay
Helen K. Sinclair

Supervising the management of risk of TD:

Approve the Enterprise Risk Framework and related risk category frameworks and policies that establish the appropriate approval levels for decisions and other measures to manage risk to which TD is exposed;
Review and recommend TD's Risk Appetite Statement and related metrics for approval by the Board and monitoring TD's major risks as set out in the Enterprise Risk Framework;
Review TD's risk profile against risk appetite metrics; and
Provide a forum for "big-picture" analysis of an enterprise view of risk including considering trends and emerging risks.

Audit Committee
William E. Bennett2
(Chair)
John L. Bragg
Alan N. MacGibbon2
Karen E. Maidment2
Irene R. Miller2

Supervising the quality and integrity of TD's financial reporting:

Oversee reliable, accurate and clear financial reporting to shareholders;
Oversee internal controls – the necessary checks and balances must be in place;
Be directly responsible for the selection, compensation, retention and oversight of the work of the shareholders' auditor – the shareholders' auditor reports directly to this Committee;
Listen to the shareholders' auditor, Chief Auditor, Chief Compliance Officer and Global Anti-Money Laundering Officer, and evaluate the effectiveness and independence of each;
Oversee the establishment and maintenance of processes that ensure TD is in compliance with the laws and regulations that apply to it, as well as its own policies;
Act as the Audit Committee and Conduct Review Committee for certain subsidiaries of TD that are federally-regulated financial institutions and insurance companies; and
Receive reports on and approve, if appropriate, certain transactions with related parties.

Additional information relating to the responsibilities of the Audit Committee in respect of the appointment and oversight of the shareholder's independent external auditor is included in the Bank's 2014 Annual Information Form.
1 As at December 3, 2014
2 Designated Audit Committee Financial Expert
3 Appointed to the Board on December 3, 2014