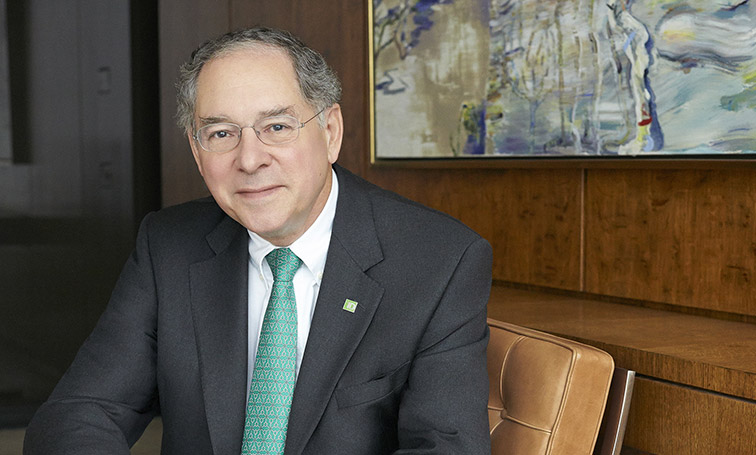 TD Bank Group achieved strong financial results during a period of continued slow economic growth in 2014. In spite of this challenging environment, TD again delivered record earnings and excellent value to shareholders thanks to its better business model, strong leadership and dedicated employees. TD was also named the most valuable brand in Canada, and one of the most admired companies in the world.
CEO SUCCESSION
Earlier in the year, we welcomed Bharat Masrani to the Board and to the role of Group President and CEO on November 1, 2014. Bharat brings a proven track record of performance and a tremendous breadth of experience steeped in the culture and values shared by the Board and Senior Executive Team. The Board has full confidence in Bharat's leadership and the ability of he and his management team to drive TD's success forward. We would also like to thank Ed Clark for his leadership and contributions over the past 12 years as CEO and a director, and wish him all the best.
CORPORATE GOVERNANCE
TD is committed to being a leader in corporate governance practices. An important element of sound corporate governance is Board renewal. In that regard, we were pleased to welcome two new directors to TD's Board: Alan MacGibbon, formerly the Managing Partner and Chief Executive of Deloitte & Touche LLP (Canada), and Global Managing Director, Quality, Strategy and Communications for Deloitte Touche Tohmatsu Limited, and Mary Jo Haddad, formerly the President and Chief Executive Officer at The Hospital for Sick Children. Alan and Mary Jo bring extensive executive experience, and we look forward to their valuable contributions to TD's Board.
LOOKING AHEAD
We expect the business environment will remain challenging in 2015. TD has consistently shown it can adapt to the challenges of its environment, and we remain confident in the Bank's management team and its employees to continue to deliver for all of the Bank's stakeholders.
I would like to extend my thanks to TD's 85,000 employees for their efforts in helping to deliver the Bank's financial results, and for their commitment to providing legendary service to our customers. TD's employees demonstrate that if you stand by our customers and communities, you can deliver in the best interest of shareholders. The Board is continually impressed with the efforts of TD's employees to make a positive impact in our communities, including initiatives such as the TD United Way Employee Giving campaign, and various volunteer activities. Their ongoing contributions to strengthen our communities are truly admirable and help TD continue to build The Better Bank.
On behalf of the Board, I would also like to thank our shareholders for your continued support. We look forward to continuing to work on your behalf in 2015.
Brian M. Levitt



Chairman of the Board